Lucky Palace is the biggest Chinese Restaurant in Seremban I believe. Altogether it could fit up to 2000 people. This popular wedding banquet venue is always full at least is it true the few times I was there. Weddings, other social and corporate events, restaurant patrons; the Lucky Palace's kitchen has to cope with large orders regularly.
Guests appreciated the food served at weddings. Food presentation was ok as well. The place has been described as one of the better places to hold your wedding reception.
Due to the number of events held simultaneously, and the huge demand the restaurant's service was not up to speed as informed by some dissatisfied guests. I think there are not enough parking spaces for that big a venue. Sometimes we had to park by the road side far away.
REVIEWS
Nov 2019
Attended a wedding reception. Service poor..Food tasted so so. Nothing to shout about. Not cheap too. Any facilities e.g. led screen, pa system, etc have to pay. I thought these are basic facilities for a wedding function where most restaurants provide.
Dec 2019
Attending my sis wedding dinner. Fully satisfied with all dishes. Having a great dinner! Environment and atmosphere surely nice in this kind of restaurant.
A restaurant of great size, it has two sections
Section 2: Hall 1 wedding setting
Section 2 foyer
Section 2: Hall 1 Reception area
Section 2: Hall 2 Reception area
Section 2: Hall 2 Wedding Stage decor
Lucky Palace 大好运酒家 Restaurant
Website: http://www.luckypalace.com.my/
Add: Lot D14-D17, Jalan Persiaran Utama S2-1, 70300 Seremban 2, Negeri Sembilan.
Tel: 06-601 1328/ 1329
Fax: 06-601 3380
Email: luckypalace04@yahoo.com
Person in Charge of Wedding Reservation / 结婚宴席预约负责人
Lilian: 016-260 2329
Winnie: 016-330 2429
Penny: 016-207 2329
CoCo: 016-550 2329

Wedding Packages 2020 婚禮套餐: 
from RM818 nett per table.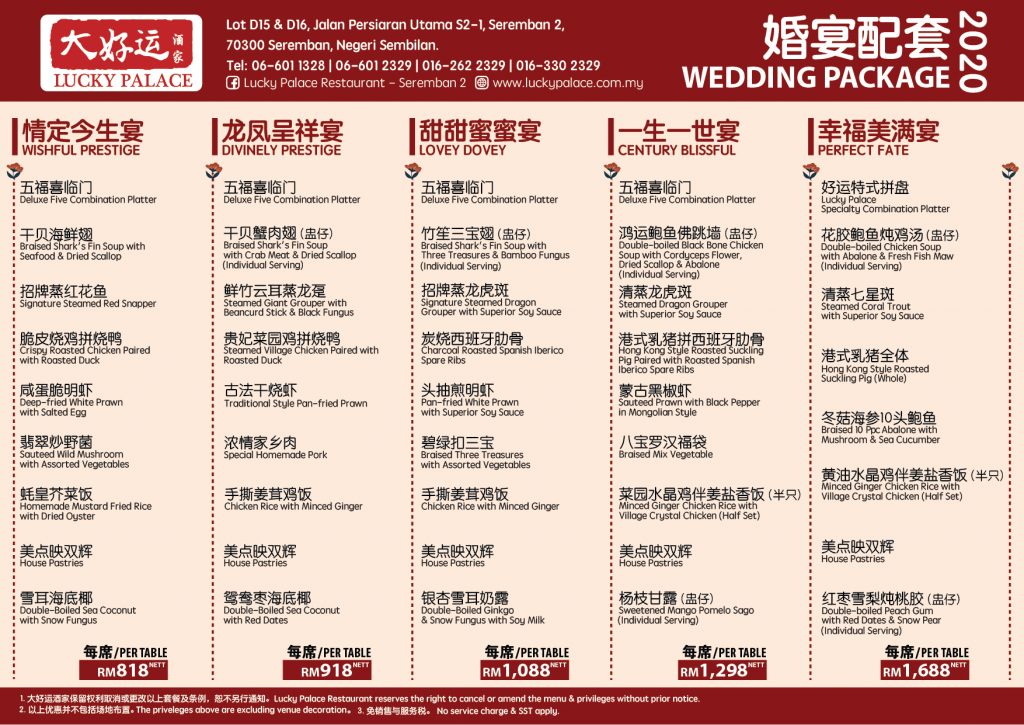 Capacity: Up to 2000 pax
Map: